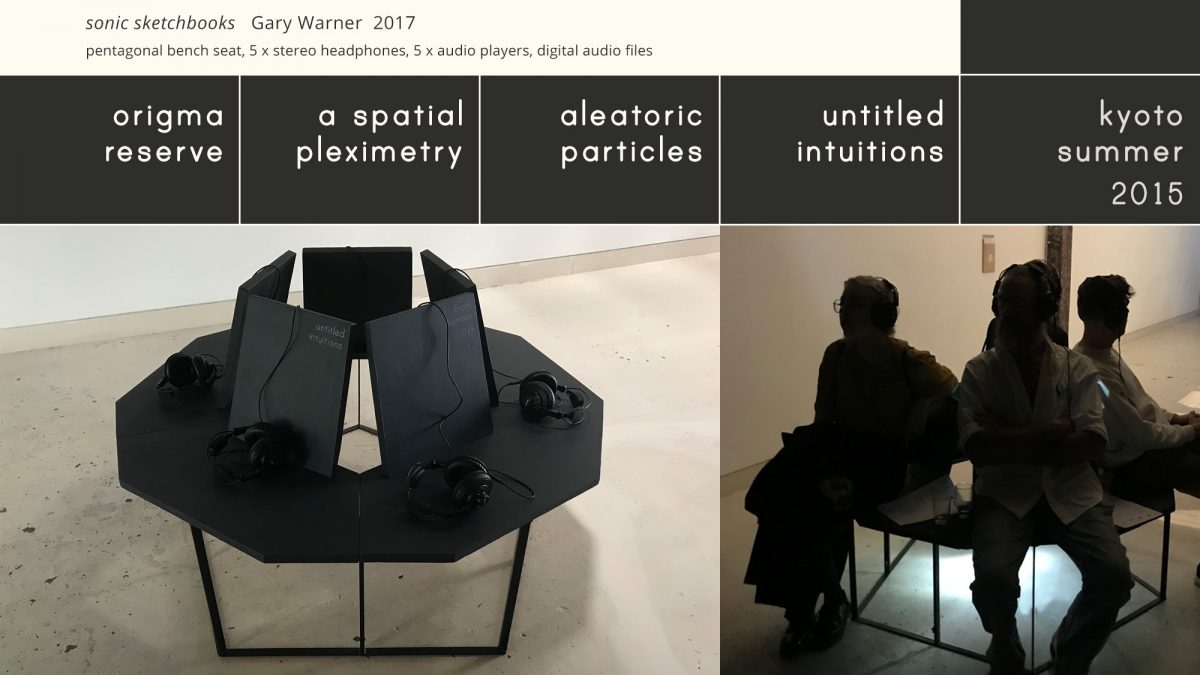 sonic sketchbooks 2017
pentagonal bench seat, 5 x stereo headphones, 5 x audio players, digital audio files
sonic sketchbooks comprises five new sound works for headphone listening constructed from field recordings in Australia and Japan and sounds made in studio, forest or street recorded with binaural, shotgun, contact and vintage microphones. These new compositions are abstract experimental immaterial sculptures of time, sound and conjured space.
sonic sketchbooks premiered at Articulate project space 497 Parramatta Road Leichhardt, Sydney showing from 28 October – 12 November 2017.
Following is the text of the room sheet…
_____________________________________________________________________
kyoto summer 2015
AIFF digital audio file, 132 mins
A sampler of excerpts from hours of field recording I made during three weeks in Kyoto, Japan researching lotus cultivation and culture. Each excerpt is two minutes duration, the sampler over two hours in total.
My general practice when field recording is to record for a minimum of 20 minutes to allow for event breadth and listening flow. The listener, if interested, is given time to forget about time, to inhabit the simultaneously evidentiary and conjured event space of the recording.
For sonic sketchbooks this important sense or state of flow is semblanced by dissolving between the excerpts to carry the listener from one scene to the next. Of course, no listener will sit for two hours. 
Each person boards or enters the experience at an unknown location and disembarks or exits when
 they've travelled, by their own estimation, far enough. This sketchbook is a sonic journey without destination, enabled by the technologic thaumaturgy of handheld audio recording.
In 1996 the Japanese Ministry of the Environment realised the '100 Soundscapes of Japan' project. From 738 submissions received from all over the country the Japan Soundscape Study Group selected a representative 100. These recordings of water, insects, birds, bells, steam locomotives and traditional agricultural and craft activities were intended to act as counterpoints to the exponential rise of industrial and consumerist noise pollution, to function as sonic talismans for local communities and to promote re-evaluation of the often ignored sonic fabric of everyday life.
_____________________________________________________________________
aleatoric particles
45 x AIFF digital audio files, approx 90 mins
This sketchbook is a suite of 45 compositions, each of two minutes duration, created for a public art soundscape commissioned by Adelaide City Council. Primary recordings were made using modified turntables fitted with clusters of tins and boxes containing marbles, superballs, quandong seeds and ping-pong balls. As the turntables rotate at varying speeds, the objects fall and roll about striking surfaces to generate suggestively musical and percussive sounds in cyclic yet slightly variant patterns. I then manipulated and mixed excerpts from these recordings with my field recordings to produce this collection of experimental sonic sketches.
Random shuffle play ensures a continuous variety of adjacency and correspondence between the 45 tracks.

_____________________________________________________________________
a spatial pleximetry
AIFF digital audio file, 14:30 mins
This project explores compositional potentials of singular sounds – sonic particles – created by recording objects being struck once (pleximetry is tapping the body with diagnostic intent). 
For sonic sketchbooks 180 different sonic particles were created and loaded onto five audio devices connected to portable speakers.
I placed these in different locations at Articulate project space and recorded the randomly generated spatially disparate sequences wearing binaural headphones (small microphones placed in each ear). The visitor to the exhibition listens to these recordings under headphones. The binaural capture creates an uncanny sense that the sounds being heard are occuring live in the space surrounding the listener. Quite often, visitors would remove the headphones to 'see' where the sounds were coming from, only to realise that they were experiencing a kind of aural illusion, a conjuring of spatial subjectivity.

_____________________________________________________________________
untitled intuitions
AIFF digital audio file, 60 mins
A one-hour composition of evolving sculptural constructions shaped from my library of field recordings and new recordings made in my studio and bush hut. I work by randomly dropping
 a number of tracks together on a timeline, then time-shifting, stretching, compressing, shaping, 
re-arranging, layering and effecting, listening and re-listening until a certain inexpressible register emerges.
I consider this practice to be a form of immaterial sculpture, locating and shaping sounds in aural and poetic space, setting up open-ended allusive relationships between disparately collected sounds gathered from my direct lived experience and formal experimentation.
_____________________________________________________________________
at origma reserve
AIFF digital audio file, 60 mins
In 1997 I bought and became custodian of 10 hectares of off-grid, unserviced bushland at the end
 of a dirt track, north-west of Sydney on the headwaters of Little Cattai Creek – land that is now within the ambit of the Deerubin Land Council.
It seems unclear what the specific pre-invasion Aboriginal tribal or clan affiliations were with this place but it's probable the traditional inhabitants were Bidjigal people – 'people of the woods', Pemulwuy's people. I've read that Aboriginal people here may have been hard-hit by the terrible 
1789 smallpox epidemic, with survivors perhaps migrating to join surviving coastal people.
My name for this place of forest and wetland, hill and valley, creek and cave is Origma Reserve, for 
the charismatic small endemic bird Origma solitaria, the rockwarbler. For now, this place so close to Australia's largest city remains settled into invisible networks of deep-time interdependency and still feels whole, wild, generative, inhabited and culturally inscribed with sites of everyday use, knowledge, custom, responsibility.
It is a provider of different forms of existential nourishment and is alive with sounds and voices – arcane communications with much to say to any who would listen. But being only an hour north
 of Sydney, it's no aural idyll. The quivery aleatory skeins of birdsong weave within a broader, cruder sonic field including trail bikes, chainsaws, helicopters, planes, trucks, cars, jet-skis on the Hawkesbury, wild dogs, a neighbours destructive sandstone quarry.
But within, around and through this sea of artificial noise, the aurally resplendent indigenous birds, insects, marsupials and other registers of ancient life are still there, persisting, seasonally constant, theatrical, demonstrative, timeless, embedded, immanent. Together in the mists of unknowing they create an unmistakable, deeply affective and abiding sense of place bound together by the uniquely complex, remarkable and restorative bird banter of the Sydney sandstone country.
This sonic sketchbook presents an hour-long compositional mix built with recent recordings made at Origma Reserve. Sitting quietly, listening in attentive presence in the forest, under headphones or not, is a rare and valued experience.
_____________________________________________________________________
Sound thrives in the psychological terrains of thought, feeling and memory.