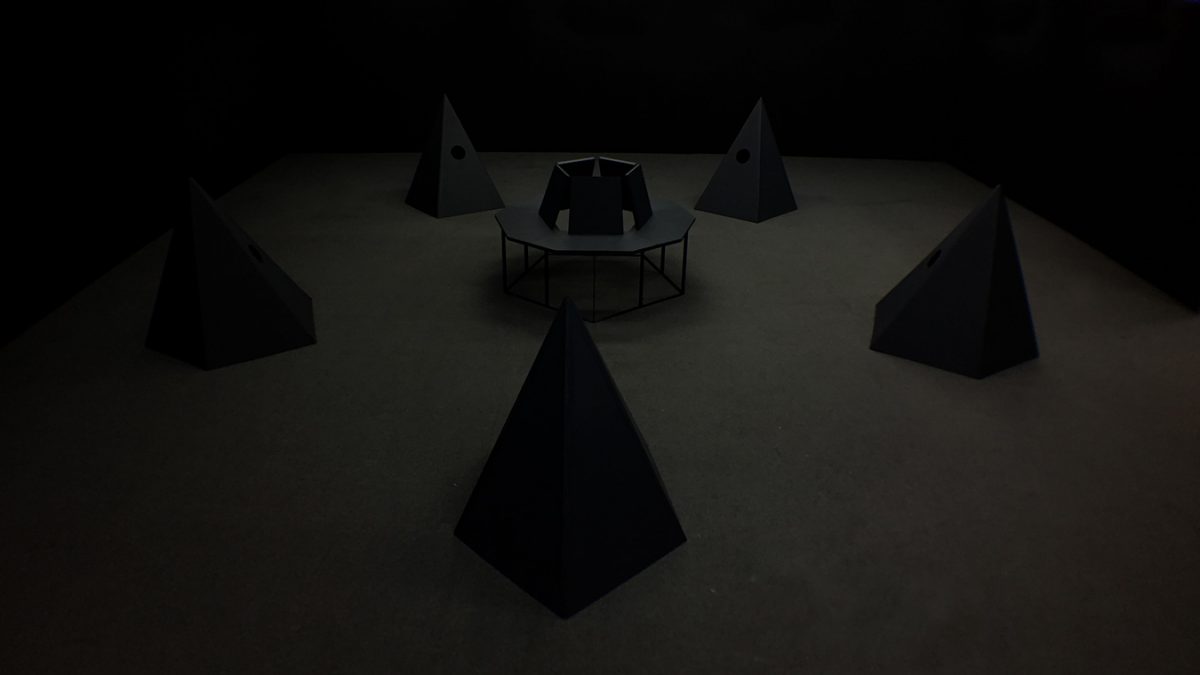 soundtracker 2016
digital audio files, playback hardware, bench seating, craft paper and cardboard constructions, shoji paper, scent, subdued light, dimensions variable
soundtracker is an installation sound work comprising five pentagonal pyramids containing five sound sources that surround a custom-designed pentagonal seating element. The space is presented in extremely subdued light – a small shoji paper circle above the seat and, across the room, another larger shoji paper circle, admit natural light that connects the space to the external conditions of the day. The installation environment alludes to the calming shadow-cloaked spaces elucidated by Jun'ichiro Tanazaki in his 1933 essay 'In Praise of Shadows'.
The immaterial substance of the work is fifteen hours of audio files, a subset of selected and prepared excerpts from the library of field recordings I've made over the past 40 years. These excerpts, on average, are about six minutes duration. Each of the five playback units stores about 40 files and is programmed for endless shuffle-play. This randomised, asynchronous playback establishes the continuously recombinant surround-sound sonic-poetic atmosphere of soundtracker.
Dispersion of vaporised botanical oils subtly scents the bespoke listening space that emulates the ethereal darkness of a forest night.
The work premiered at ES74 Gallery, 74 O'Riordan Street, Alexandria Sydney Australia
17 November – 04 December 2016.    es74gallery.com
soundtracker at Bundanon, NSW April-May 2017

soundtracker was invited to be shown from 9 April – 7 May 2017 in the Single Man's Hut at Bundanon, one of the Bundanon Trust properties gifted to the nation by 20th century artist Arthur Boyd in the 1990's.
Bundanon is an internationally renowned rural retreat providing residency accommodation and studios for artists, writers, musicians, dancers and jewellers.
The Single Man's Hut is a small stone and timber building dating from the 19th century, part of the architectural legacy of Bundanons long use for farming and cattle production.
The hut is very small, and dominated by a ziggurat sandstone block fireplace forming one wall of the single room space. For this version of soundtracker, I designed and constructed four 'sound sentinel' pyramids from craft paper, which were used as receptacles for four playback devices and speakers.
I covered the three small window apertures with framed shapes of shoji paper, to exclude the detail of the exterior view and draw attention instead to the shifting changes of light created by the sky passage of the sun and its light dappling through trees around the building.