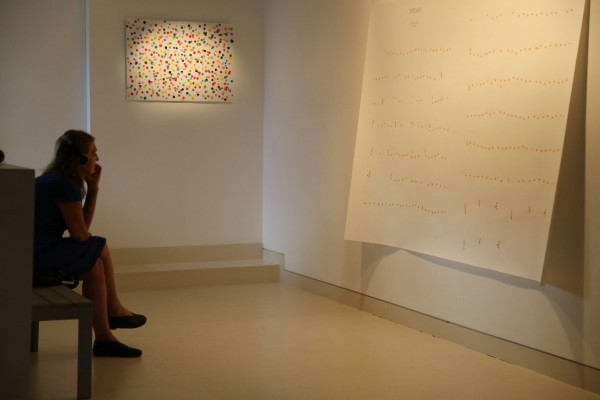 dreamfield (48/15)
ink on paper, electronics (2 x iPods, custom cable, multiple headphones), bench seat work on paper – 2250 (w) x 1500 (h) mm
field recordings by Gary Warner / piano recital of John Cage's 'Dream' (1948) by Barbara Campbell.
dreamfield (48/15) is an homage to American composer, artist and inspiration John Cage. I asked my friend, the artist Barbara Campbell, if she would be interested to learn to play a work of Cage from 1948, titled simply 'Dream'. It is a lyrical single noted melodic meander punctuated with occasional measured chord phrases. She taught herself the piece and I recorded a recital on her upright piano in her inner-city home.
I then prepared a sequence of excerpts from various field recordings I've made in Kyoto and at my off-grid bush sanctuary north-west of Sydney, Australia. Each of the 23 excerpts lasts a couple of minutes. They include sounds on trains and buses, in streets, fields, forest and hut, of birds, insects, frogs and people.
Each of the two sound sets are loaded onto separate iPods (ie 'Dream' on one, field recordings on another). The headphone outputs of the two iPods are then fused to create a single line output, which is sent to a headphone splitter to allow up to five people to listen to the work at the same time.
The 40+ minutes of field recordings play back in random order, and the 8 minutes piano recital loops, creating an autonomous 'live' mix that has an effect similar to a cinematic soundtrack. The everyday sounds of people and place being inflected for the listener by the slightly melancholic, definitely 'dreamy' lilting piano score.
Visitors listen to the work under headphones installed at a bench seat facing a large work on paper, in which I replaced the notes of John Cage's music score for 'Dream' with saffron orange ink dots. The listener finds themselves trying to match the melody to the visual score, creating a further level of conceptual engagement.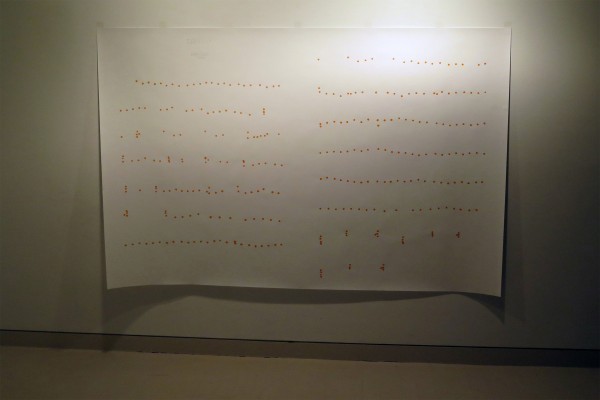 My title for the work concatenates Cage's score title with the practice of field recording, capturing the sounds of everyday life and events; points to the mental state of imaginative immersion induced by listening under headphones; and creates an irrational meter or time signature from the years of production of the two works – 1948 and 2015.